How to install a visor on a bike helmet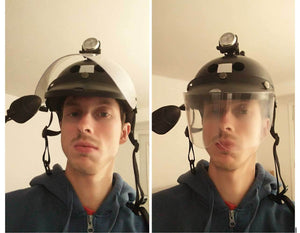 Like me, if you probably already ride all year round, no matter the conditions, and since I am not normally fearful when I ride, I think it's always good to be able to enjoy a little more comfort when the weather is particularly nasty. It is with this in mind that I thought about the idea of testing a visor for my helmet.
By Mathieu Cloutier

--
Why a visor when ski goggles could do the trick you say? Well, for a few reasons. Firstly, because it is something almost impossible to forget: it is attached to my helmet (just like my lights), relatively affordable (especially since the solution I tested didn't need to replace my helmet). The visor also offers the advantage of being harder to fog up than goggles and is easily removed with one hand during the trip, unlike goggles, whose strap must be stretched to place them on the top of the helmet (when the shape of the helmet allows it... ) And it goes without saying that cyclists wearing glasses usually not able to wear ski goggles over them.
But I will not just give you the idea to test it: First, you'll need a helmet and a visor. For my part, I use a skateboard helmet, which has the advantage of having a very regular frontal contour. Then you will have to find a visor. The cheapest and most versatile solution seems to be the kind of three-button model of attachment ("3-snap visor" in English) which is intended for the motorcycle helmet (which looks pretty much like the shape of my helmet).
You can proceed with velcro, or by finding some snap buttons somewhere to install on your helmet with epoxy to accommodate the visor. This kind of snap will probably be found at a shoemaker's, but the dimensions may depend on the model of visor that you will have on hand.
You can also measure and order online like everything else, of course. For my part, although I will soon try the snap button option, I am rather satisfied with the Velcro attachment. The visor might move a little occasionally, but has never threatened to fall off in the past few weeks that I have worn it). All this for less than $15 if you already have this kind of helmet.
The result shown in the photo lets you see the interesting modularity offered by this solution: it is not necessary to spoil your helmet permanently, or to spend or encumber yourself with a new helmet to help protect you face during the worst days of the year. And if in spite of it all your visor fogs up from the condensation of your breath, there are simple tricks to reduce the effect of this phenomenon. Personally, I was successful in applying a small amount of
shaving cream and polishing it on the visor with a clean cloth
.
The only downside I could find is that since in winter, I prefer to wear a mirror on my helmet to not have any on my handlebars (it allows among other things much easier to use handlebar mittens), the positioning of this mirror could be thwarted by the relative position of the visor. However, I have no reason to believe that this problem is insoluble; at least it was not in my case.
Finally, if many shades and colors are available, I preferred to opt for a transparent visor: it makes riding at night much easier and it is also easier to interact with other road users as needed considering your face's visibility. If necessary, it is possible to wear a pair of glasses (vision or sun) underneath, but I did not feel the need (my visor has a UV 400 protection).
---
---
Leave a comment
Comments will be approved before showing up.