An extraordinary trip to Switzerland🇨🇭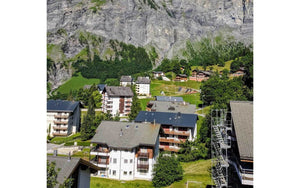 A partial view of Leukerbad from the balcony of our accommodation
By Stéphane Gagné
====

On a three week vacation this summer in Switzerland, I discovered a country where it is easy and pleasant to practice outdoor activities (walking, cycling, mountain running, etc.). I share with you my extraordinary experience.

From the moment we arrive at Leuk-les-Bains (Leukerbad in German), in Valais province, we were fascinated by the landscape in front of us. We were literally surrounded by high peaks of 2,000 to 3,000 meters. The city is located at 1411 meters above sea level.

Once in the house, I quickly realized, looking at the maps, this corner of the country's great potential for mountain walking and trail running. We were at the heart of a vast network of trails and in addition, in a natural park. What could be better!

The city seen from one of the most beautiful trails on which I ran one of these 16 mornings




The place is also very well organized for mountain biking. There are many trails for all levels. But for this trip, I did not have a bike and I did not intend to rent it either, because I already do a lot in Quebec. So I focused on trunning (alone, 16 mornings out of 22) and then walking in the day with my partner.



Unforgettable runs

Where we were staying, in two minutes, I was already on the trails. As for ease of access, we can not ask for better. Very quickly, I realized that there were many more trails than those illustrated on the official map. I discovered new ones every day, all as beautiful as the others. Some were very narrow, steep and dizzying. Others were wide and fairly easy paths. In the majority of cases, they were without rocks or roots.
The climb of the Gemmi Pass, 937 meters of elevation over 5 km!
One day, taking the cable car to reach the Gemmi Pass, I saw a sign where it was written Gemmi Running. As a regular runner, it intrigued me. I went on the website to see and I understood that it was a free challenge open to all: climb the path that leads to the top of the pass (2350 meters) in less than an hour for men and under 65 minutes for women. The successful person is entitled to a reward: a free ride on the cable car and an entrance to the place's beautiful thermal baths (it's no coincidence that the city is called Leukerbad!). I tried twice and both times I completed the climb within an hour (57 minutes and 54:34 the 2nd time). What a satisfaction to bask in the baths after this trying test: 937 meters of altitude to climb over a distance of five km. A memory that will remain engraved in my mind for a long time!
The climb of the Gemmi Pass, 937 meters of elevation over 5 km!
Beautiful mountain hikes
After my morning runs, I happened to offer trails as hiking trips to my wife. Beautiful walks with beautiful views. A special feature in Switzerland is the restaurants in the mountains. They are numerous and always offer breathtaking panoramas. You had to try one. So, one day, we walked from the apartment and went to a restaurant where we ate very well, in a dream setting.
One day, we drove to the foot of Mont Blanc
In winter, however, the place is much more lively, because it is one of the many places in Switzerland where you can do sliding sports (alpine skiing, cross-country skiing, luge, etc.). To attract tourists in the summer, there are still many activities: walking, running, cycling (many are electric), thermal baths, and even scooters. At the top of the second cable car (called Torrent), it is possible to rent a scooter with very wide wheels and to descend by a gravel path. It is a very popular activity, rather easy and family friendly. This same possibility is also offered for mountain biking but on a sportier circuit.
In short, you don't get bored in Leukerbad!
On the arrival of one of the two cable cars of the city, we saw these scooters rented which allow to descend gently the mountain
---
---
Leave a comment
Comments will be approved before showing up.