Enjoy the beautiful parks of the area... by bike!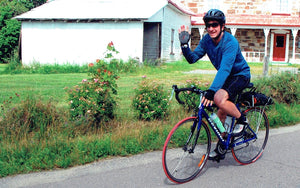 At any time, I love cycling. For me, it makes sense to "drive" towards my leisure places to practice walking or running. I use motorized vehicles (car or bus), only when the distances are longer. And the opportunities to actively position yourself in greater Montreal, in Montérégie and in the Laurentians which are though still great regions.

Mont Saint-Bruno Park, Mont Saint-Hilaire, Michel-Chartrand Park, Cap Saint-Jacques, Bois-de-Liesse Park, Val-David-Val-Morin Regional Park... This is only a partial list of parks accessible by bike from Montreal or the surrounding area. Some of them, a little further away (e.g. the Galt reserve in Mont-Saint-Hilaire, Val-David-Val-Morin regional park) require good physical condition, but this can still be done.




One disadvantage, however, is that if you want to walk or run once on the spot, unfortunately not everyone has a secure place to store their belongings (e. g., change of clothes, shoes). This is what I was deploring in one of my previous texts on this blog. It is therefore important to check for lockers or changing rooms before going there or minimize the amount of baggage to bring if these places do not have any (you can also use this opportunity to require that these places must be fitted with them).


The benefits of biking trips

There are two main reasons for cycling to these places. Firstly, we avoid emitting greenhouse gases that are the cause of global warming and secondly, we combine two exercises (e. g. cycling-walking or cycling-running) that are great for keeping in shape or improving it. This is known as cross training. As Daniel Riou, a running specialist mentioned a few years ago, cross training offers several advantages. These include a reduction in the risk of injury, the possibility of working on muscles neglected by running (for example) and finally, avoiding the monotony that can occur when doing a single activity.


A variety of paths

The other benefit of this combination is to enjoy great cycling tours and to physically prepare for the following activity (walking or running). When we reach our destination, we're full of endorphins to start it. In addition, with the amount of cycling infrastructure in the Montreal region and beyond, it is frequently possible to get to these sites in a safe manner. This is the case for adepts who would like to bike to Mont Saint-Bruno Park from Montreal or Longueuil. A beautiful itinerary is also available to climb Mont Saint-Hilaire thanks to the Oka-Saint-Hilaire axis, a 143 km hiking and cycling trail.




For Laurentians lovers, the P'tit Train du Nord trail gives access to a large selection of beautiful hiking destinations, including Val-Morin-Val-David Park (located on the shoreline). And if you want a part of the bus trip, it's possible. Because all buses in this region are equipped with bike racks.


---
Photos:
Me on my bike.

Beautiful trails and lakes at Mont Saint-Bruno, located only 26 km from Montreal. Photo credit: Mathieu Dupuis, SEPAQ.

A wonderful park, the Rivière-du-Nord in Saint-Jerome. 
---
---
Leave a comment
Comments will be approved before showing up.