The boat-bike mix ⛴🚴🏽‍♂️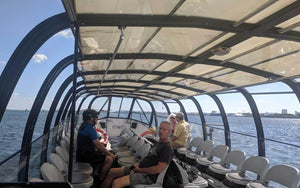 Inside the shuttle during the crossing.
====

Initially, I thought of doing a bike ride on the South Shore to Varennes. Take the shuttle bus to Repentigny, drive to Pointe-aux-Trembles and then take the shuttle bus to Jacques Cartier Pier. I was excited to take two different shuttles, see two different parts of the river while doing a nice bike ride mostly along the river.

What a disappointment I had when I found that the Varennes-Repentigny shuttle was not operating. The reason: water level still too high. Route change, but still very interesting. I left La Petite Patrie (the neighborhood where I live), crossed the island of Laval entirely, then crossed the Mille-Îles river and along this river to Repentigny. Then, I came back to the island of Montreal to reach the Saint-Jean-Baptiste wharf from where the Pointe-aux-Trembles-Vieux Port shuttle departs. A beautiful 64 km ride, mostly flat.

While rolling along the Mille Îles river, I also made some beautiful discoveries. The Rivière Park in Terrebonne has been a revelation, a very beautiful natural site, located on the banks of the Mille Îles river where you can walk on footbridges (see photo). You can also rent watercraft (canoe, kayak, paddle board).


A beautiful discovery, the Rivière à Terrebonne Park.


An affordable and impressive cruise

My bike trip ended at the Saint-Jean-Baptiste wharf in Pointe-aux-Trembles. At this point, I took the river shuttle. There is a departure every half hour. For my modest sum of $4.50 (including bike), we discover a hidden side of the island of Montreal. The views of the river, the port of Montreal and downtown are impressive. The boat moves quickly. The duration of the cruise is only 30 minutes. A very nice way to finish a bike ride.


Shuttle arrival at Jacques-Cartier Wharf, Old Port

Multiple possibilities of routes

The route I did is a possibility among others of boat-bike "mix". Indeed, the Navark company that manages river shuttles in the Montreal area offers eight other crossings, which opens the door to multiple boat-bike or bike-boat combinations. Rates vary depending on the route.

For example, a very interesting route is the Lachine-Ile Saint-Bernard crossing (a natural reserve in Châteauguay). It consists of cycling along the Lachine Canal trail and then taking the shuttle bus to Lachine (in operation only on weekends during the summer). You can stay on the island and then return with the shuttle or return to town along Lake St. Louis and the Seaway bike path. A very nice day that allows you to observe the Lachine rapids during the crossing.

View of the heart of Montreal from the shuttle
For more information on fares, schedules and various shuttles, visit the
Navark website
.
Photos: Stéphane Gagné
---
---
Leave a comment
Comments will be approved before showing up.