The hazards of winter cycling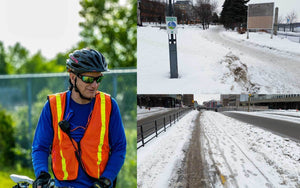 Cycling in winter can sometimes become a real obstacle course in Montreal. Ice accumulation following the black ice, heavy snow on the streets, bike lanes transformed into a snow dump... These are some examples of difficulties that cyclists may encounter.

--
Winter cycling is becoming increasingly popular in Montreal. As proof, the Facebook group Winter Bike-Montreal has nearly 9,000 subscribers! And every week, new people write on the page to inform members that they intend to learn about this activity. This infatuation is creating pressure for the city to maintain the streets and clean up the cycling network.

This fall, the City of Montreal has announced that 76% of its cycling network (590 km) will be plowed this winter. However, it turns out that a large majority of this network is composed of bicycle lanes (which consists of an unprotected lane, delimited by a simple painting on the roadway). Shortcomings were quickly noted on the quality of the snow clearing of these lanes.

Inadequate snow removal
Having been a winter cyclist myself since 1982, last mid-November I lamented to Marianne Giguère, the city's cycling manager, the fact that these lanes became snow dumps after a snowfall. The snowplow passes and pushes the snow onto the bike lane, which makes cycling risky and even dangerous, because as a cyclist, we are grazed by motorists. The distance of one meter, prescribed by the Highway Safety Code, is not often respected. 
The exchanges I had with Mrs. Giguère taught me that it is very difficult to properly clear the lanes (which are very often close to the cars parked on the street), as this requires delicate and longer maneuvers by the equipment operators. And these people are in a hurry... Once the snow has been loaded, the lanes become more accessible until the next snowfall.
Problematic weather conditions
On protected bicycle paths, another problem arises. This winter, those that are part of the winter network are usually well cleared of snow. One caveat, however, snow removal is uneven depending on the districts. On 9 January 2019, a journalist from the Métro newspaper went around the main bicycle paths in the central districts (where most of the winter network pathways are located) and he could see it. The Rosemont-La Petite Patrie and Mercier-Hochelaga-Maisonneuve districts are the ones who clear the snow with the most efficiency.  
The other problem is the weather conditions. These last few winters, we often had weather cocktails (eg snow, rain, ice and snow again). After these episodes, the pathways become all icy and the time to restore them can be a few days.

Safe facilities for four-season cyclists is essential. But safe equipment too. There are a variety of accessories (light, lumos helmet, etc.) that increase your comfort on the road, summer and winter.

---
---
1 Response
Leave a comment
Comments will be approved before showing up.