How I save thousands of dollars by giving up my car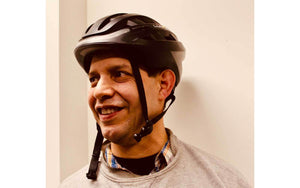 Just last week I sold my car. One of the best car I have had in many years. A Hyundai Elantra. It was gas efficient, it had great acceleration and it has a beautiful design.

Our relationship didn't make sense anymore. I don't have any real need for my car. In the past, I justified being a car owner because I could use it in my Airbnb business, but I don't have it anymore, so goodbye beautiful car.



Hello Bike 
Instead, I am reaffirming my relationship with my old bike. My bike has been with me for years, always loyal. I use it all during the year, I even use it in the winter at -20 °C (-4.0 °F).

How has my life changed since I did this change?

I am saving tons of money. Here are my savings per year.

 

Insurance

830

Registration

270
Gas

600 (assuming $20/month)

Maintenace

200 (oil and tire change)

Parking

60 ($5 X 12 months)

Parking permit

140

Depreciation

500

Opportunity cost

400
TOTAL
3000 (and over!)
Additional benefits of not having a car
Not having to worry about parking the car in front of my apartment
My car was broken into several times. There was nothing to steal but I felt violated every time.
More walking/biking, which improves my health
I am contributing less to the pollution of the planet
I feel better when I consume less
I don't have to worry about where to park my car when I travel
I don't have to look for parking spaces when I go places
I don't have to worry about ever hurting anyone while driving (me too, I can be a distracted driver)
I am a minimalist. I hate owning stuff
I can get friends to come to my neighborhood, instead of me going to their neighborhood, because I don't have a car
I save a few minutes of my life by not having to worry about payments
If I take the metro or an Uber, I get to read or make phone calls while being transported.
Our cities are polluted with parking spaces everywhere. I am glad I am not contributing to that.


The downside of not having a car
Occasionally I have to rent a car, about once per month at the cost of $5/hour plus gas. $25/month x 12 months = $300
Occasionally I rely on others to give me ride
The choice is yours.

This blog was originally written by Alain Guillot. Finance Blogger and Podcaster.
---
---
1 Response
Leave a comment
Comments will be approved before showing up.