Winter cyclists want more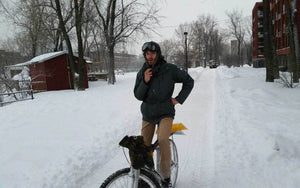 The Montreal area is well provided with protected bike pathways. Developed during the deployment of the Route Verte (a Vélo Québec project) and also thanks to Parks Canada's efforts, cyclists have become accustomed to using and appreciating them. Throughout the Montreal region, four-season cyclists gather and form associations to demand safer pathways to cycle in the winter. More snow removal and maintenance are asked for.

Le canal-de-Lachine

Créée l'automne dernier, the Lachine Canal Association for Active Mobility is campaigning for the bike pathway of the same name to be cleared of snow in winter. Frequented by one million users per year according to Parks Canada (owner of the site), the 14.5 km pathway is difficult to use in winter either because it is icy or snowy. On the association's Facebook page, there are dozens of testimonials from cyclists who appreciate this pathway for its safety aspect, away from car traffic. They deplore, however, that it is not usable in winter.

The majority of these winter cyclists mention that it is more hazardous, even dangerous, to take the streets that run parallel to the Lachine Canal trail (e.g. Saint-Patrick Street, very busy and with no shoulder). In its presentation, the Association mentions however that the City of Montreal had taken position since 2014 in favor of the pathway's snow removal. Mayor of the South West District, Benoit Dorais is also in favour. Even Canada's Minister of Environment and Climate Change, Catherine McKenna, expressed her support for the operation in January 2016.

Around 30 cyclists gathered on February 21 on the Lachine Canal for a "shovel-in" to deand that the canal pathway be accessible year-round (plowed in winter).

"A snow removal pilot project has been carried out, but it covers only 500 meters, which is very disappointing", says Clélia Sève, spokesperson for the association, who points out that citizens have been mobilizing since 2009 for the pathway to be completely cleared while keeping snow for cross-country skiing. Parks Canada is not closed to the idea, but they must assess whether the paved pathway can support the machinery used for snow removal."


Laval North-South Axis


The Vélo-boulot Laval Rive-Nord Facebook group also lobbied for the north-south axis in Laval (which is part of the section 1 of the Green Route) to be cleared of snow in the winter. This pathway, very busy in summer, crosses the entire island from south to north, away from car traffic.

Section de l'Axe cyclable Nord-Sud à Laval.

"The City of Laval is clearing the first two or three snowfalls and that's it", says Gilles Boutin, administrator of the Facebook page. A section near the Vimont station is used by snowmobiles as well as the bridge that crosses the Mille-Iles River towards Bois-des-Filion. The cycling network in Laval is really sad in the winter. »


Notre-Dame Path
Another problematic area is the Notre-Dame pathway. Already, the eastern part of the island of Montreal is not very well served by bike pathways. And those that exist are not optimal for cyclists. Several sections, poorly maintained, would need some love. Also, Facebook group Déneigement Notre-Dame wants to ensure that the bike pathway along Notre-Dame Boulevard (section 5 of the Green Route) be maintained and de-iced in winter. The Mercier-Hochelaga-Maisonneuve district had already announced this fall that this pathway and several other bike lanes on the territory would be cleared this winter.
This is far from the reality. "The district's public works are clearing the snow, but as soon as there is a thaw followed by a build-up of water and frost afterwards, the pathway becomes icy and impassable," says Nicolas Gagnon, administrator of the Facebook page. We can not use it anymore. It is the only safe route for cyclists, away from car traffic, that crosses the district from east to west." The situation is the same for the western section of the pathwayway in Ville-Marie district, according to him.


Notre-Dame Pathway in February.

"The district does not have equipment to de-ice the pathway and there is also a lack of will," he adds. We have been asking for snow removal for years. When it's an important artery for motorists, public works does what it takes to make it safe. When it's for bikes, we don't care. »


Safe facilities for four-season cyclists is essential. But safe equipment too. There are a variety of accessories (lights,  smart helmets, etc.) that increase your comfort on the road, summer and winter.


Des aménagements sécuritaires pour les cyclistes quatre saisons, c'est primordial. Mais de l'équipement sécuritaire aussi. Il existe une panoplie d'accessoires (lumière, casque lumineux, etc) qui ont pour effet d'accroître votre confort sur la route, été comme hiver.


---
---
2 Responses
Leave a comment
Comments will be approved before showing up.